The 4Cs of a diamond
CUT
A good cut gives a diamond optical efficiency – the way it handles light for maximum brilliance, fire and scintillation. A gemologist evaluates a diamond's cut base on its girdle, table size, crown angle, pavilion depth, and culet size. The details of the cut are made up of Polish and Symmetry. All Cut, Polish and Symmetry should be graded under the following 5 levels. A diamond with "triple excellent" is believed to emit maximum light returns.
COLOUR
Diamonds that range from colorless to light yellow/light brown are graded under the D-to-Z range. A gemologist values color based on how noticeable the color is, using naked eye, by comparison against the master set stones. All other value factors being equal, colorless diamonds are the most valuable and desirable because of their rarity.
CLARITY
A diamond's clarity refers to the freedom from the presence of characteristics on and within the stone. Blemishes are confined to the surface, while inclusions are typically enclosed within a diamond (or extend from the surface into the diamond). The factors that determine the effect of characteristics on a clarity grades are size, number, position, nature and relief. The grades to describe the clarity are
CARAT
The carat represents the weight of a diamond. One metric carat equals to 0.2grams. Therefore a 1 carat diamond might have diameter that ranges from 6mm to 6.6mm. The magic sizes, which are popular, are probably 0.30ct, 0.50ct, 0.70ct, 1ct, 1.2ct, 1.5ct, 2ct and so on. All the 4Cs play important roles in determining the value of a diamond.
18K White Gold vs 950 Platinum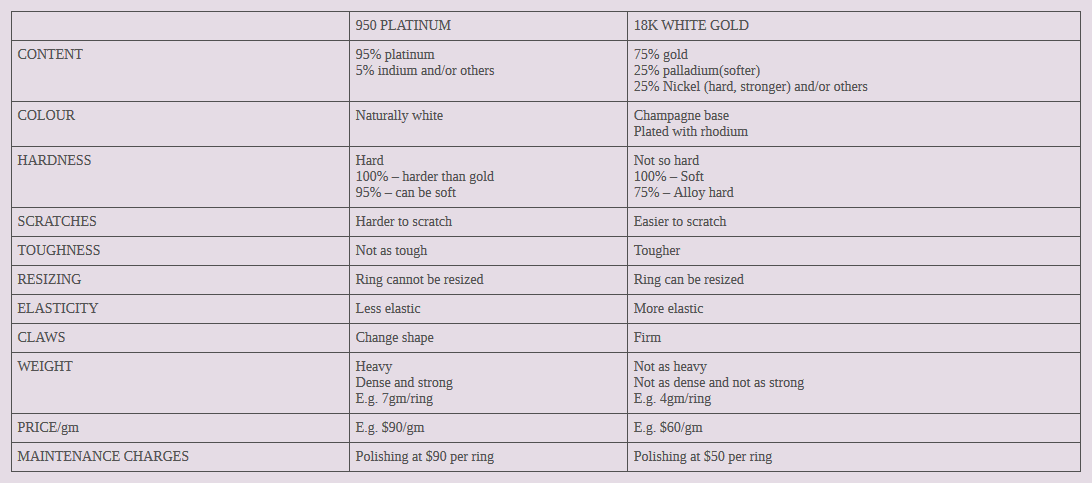 Customization process
Please note that customisation of wedding bands requires 2 months.
Colours of gold
Caring For Your Diamond Jewellery
The maintenance of jewellery is commonly associated with caring for the diamonds set as well as the precious metal.
Daily exposure to household chemicals, skincare products and natural skin oils dulls the diamond's natural brilliance and sparkle.
We recommend professional cleaning once every 6 months in which we use professional jewellery cleaning products and tools to wash and brush away accumulated dirt and oil.
Our trademark quote is that "a diamond is forever, but the setting is not." So, if your ring or other diamond jewellery has undergone trauma, such as having been dropped or knocked against hard surfaces, we strongly advise a professional check to ensure the firm setting of the diamond. This is a complimentary service by eClarity for all its members. GIA recommends a check and polish once every year, and below are a few tips to ensure the best condition of your jewellery.
Always protect your jewellery from sharp blows, scratching, chemicals, sunlight and heat/cold. Ideally, store your jewellery in a soft cloth box or pouch. Try to keep pieces compartmentalised, so that they don't rub against each other and become scratched.
Avoid contact with chemicals such as nail polish removers, perfume and hairspray.
Do take off your jewellery when performing active tasks and tasks requiring contact with chemicals; e.g. cleaning, gardening or performing sports activities.
Never go swimming in your jewellery, as chlorine in swimming pools can be damaging to your jewellery.
Maintaining the lustre of precious metals
White Gold
Alloyed gold is pale yellow in colour, which requires it to be plated with rhodium to give it a silvery-white reflective surface. Rhodium is a silvery-white metal that is hard and durable, and also increases the corrosion resistance of the gold jewellery. As white gold jewellery wear off with time exposing its yellowish tint, replating of rhodium is necessary.
Rose Gold
Due to the high copper content (20%) in rose gold alloys, copper in rose gold jewellery will become oxidised to form deep reddish-brown copper oxide when exposed to air over prolonged periods. Polishing of the jewellery or a reducing agent can be used to restore the original colour of rose gold.
Yellow Gold
As yellow gold jewellery are not plated to give their colour, they do not require replating. However due to prolonged wear, they may become tarnished, which calls for a polishing to restore their lustre.
GIA
The Gemological Institute of America (GIA) was established in 1931 as a non-profit institute and is known to be the world's most recognised and trusted grading lab, with its reports representing an independent third-party opinion in diamond grading. In the 1950s, GIA created the 4Cs of diamond quality, including the D-Z colour scale and flawless–I3 clarity scale of a diamond. A GIA report also provides a poor to excellent grade for cut, polish and symmetry as well as a proportion diagram of a diamond. Most of eClarity's diamonds are GIA-certified.
AGSL
The American Gem Society Laboratories (AGSL) was established in 1934 by a group of independent jewellers and Robert M. Shipley, the founder of the Gemological Institute of America (GIA). It is the first lab to offer numerical cut grading for diamonds including fancy-shaped diamonds such as princess, oval and emerald cut. AGS has 11 Cut Grades (0-10). A "0" grade is representative of the most desirable Ideal Cut and a "10" represents a poor cut. AGS grades seven aspects of the cut of each diamond. These include the table diameter, crown angle, pavilion depth, girdle thickness, culet size, polish and symmetry. The first five of these are grouped under the term "Proportion". Diamonds that score 0 in all three cut categories are premium cut diamonds emitting maximum light returns.
EGL
The European Gemological Laboratory (EGL) was founded in 1974 in Belgium and is popular for its lower cost and fast service. EGL introduced the SI3 grade as a clarity grade. It has a clarity scale of flawless, internally flawless, very, very slightly included 1 – 2, very slightly included 1 -2, slightly included 1 – 3, and piques 1 – 3. EGL also offers a wide range of certificates, including the full certificate, mini certificate and the Certicard TM. The full certificate includes information on the 4Cs of the diamond, proportions and polish, as well as an image of the laser inscription on the girdle of the diamond. The mini certificate includes all information found in a full certificate, but in a compact format. The credit-card sized Certicard TM also includes all information as in a full certificate, together with a digital picture of the diamond face-up and the laser inscription on the girdle of the diamond.
IGI
The International Gemological Institute (IGI) is the world's largest independent gemological institute with its headquarters in Antwerp, Belgium, founded in 1975. It is also popular for its lower cost and fast service. It has a D to V colour grading and an IF to I3 clarity grading and provides quantitative information on the proportions of a diamond.
HRD Antwerp
Hoge Raad voor Diamant (HRD) or Diamond High Council is a diamond institution based in Antwerp, Belgium. The Diamond Lab of HRD Antwerp was founded in 1976 to meet the growing demand for reliable grading of diamonds. Its reports are mainly found in Europe and Asia. It has a colour grading of exceptional white+ to tinted colour (yellowish). Its cut grade system includes the proportions and finish grade of the diamond: proportions has a grading scale from very good (most ideal) to unusual, while finish grade has a grading system of very good (most ideal) to poor. The report also includes the detailed proportions of the diamond.
Getting the right ring size
A printable ring sizer-cum-ring size guide is available. Kindly note that sizes on the printable sizer guide are in Asian sizes. Refer to below for the size conversion chart.
Before you print, please be sure to set the page scaling to 'None' on the print dialogue box.
Guidelines
1. For a higher ring size accuracy, measure the finger at the end of the day when the fingers are at their largest.
2. It is not advisable to measure cold fingers. This is when they are at their smallest.
3. Use a ruler to reconfirm the printed measurements to ensure correct scale.
Estimate ring size
A quick guide of ring size estimation:

Ring size conversion chart
The eClarity Services
We specialise in diamonds, wedding bands and wedding jewellery. Customisation and great emphasis on after-sale service are what make us unique as a jeweller. And of course, professional service is more than what you can ask for at eClarity to ensure you get what you requested for.
Customers who have made a purchase with us qualify as a member. eClarity members enjoy privileges including:
20% to 40% discount on all items, 1% for BuyDiamondsOnline.
Recommended friends enjoy 10% to 30% discount, excluding solitaire diamonds.
A lifetime membership with an eClarity Diamond card.
Exclusive updates on promotions and sales events. Members will be updated on our latest offers via e-mail, and do spread the great news!
Free lifetime professional cleaning and checking services. GIA recommends a check and polish of your jewellery once every year. E-mails will also be sent during our annual members' month to remind customers of the maintenance services at eClarity.
Replating and polishing of jewellery at members' prices. Restore your jewellery's lustre with a replating and polishing to make it look new again.
One-time free resizing service will be applicable within 2 months, and within 2 sizes up and down, for engagement rings from the day of collection of the purchase.
Free consultation by our GIA gemologist ensures you make an informed purchase. We believe that all consumers should understand more about their purchases as well as the maintenance of jewellery. So during the consultation session, our gemologist will guide you through the facts of diamonds and jewellery, as well as the maintenance of your jewellery upon the collection of your purchase.
Webcam consultation service is also available so that buying jewellery online can be more convenient in the comfort of your home or office. Any enquiry is just a phone call away at +65 98331220 or you can also reach us at info@eclarity.com.sg. Alternatively, you may schedule an online consultation by clicking on our number +65 98331220 at the top left hand side of the website. An eClarity representative will contact you within 36 hours.
Price Principles
eClarity promises the most competitive prices in our diamonds.
With the trust we have forged with our local and international business partners through the years of collaboration, and a good reputation in the industry, we have a team of skillful craftsmen in our service centre dedicated to receive orders only from eClarity – for a more efficient production timeline and production cost. We bulk purchase the best products at competitive prices, enjoying the economies of scale.
Our advertising medium includes our website eClarity.com.sg, online advertisements, and by word of mouth, which we believe are more sincere. Customers are our dearest partners, who recommend relatives and friends. We can place our priority on designing and creating.
At eClarity, we do not believe in having commissioned sales people who are specialise in closing deals. Our jewellery team of gemologist, production and marketing personnel, with in-depth knowledge, will be the ones presenting the jewellery to you. We love to share our ideas and experience in jewellery design and maintenance.
The location of our store front and office is strategic and quiet. Customers are able to stay away from the hustle and bustle of the city for a quiet moment to choose their signature of love. At the same time, the accessibility allows customers to reach our office conveniently.
With a streamlined service team consisting of a committed gemologist, production and marketing representatives, our philosophy is to strive to bring about an extensive selection of products at captivating deals bundled with quality, remarkable service and sincerity.